profit with premier crop
For over 20 years, we've been empowering growers to get the most out of their fields through data driven decisions. Premier Crop makes it easy for you to find solutions that will impact profitable yield. We analyze all parts of your field, with your data, to make sure you implement the very best prescription possible. But we don't stop there. We also work to maximize your profits by generating new knowledge from your fields that help you better understand agronomic and economic relationships. And the best part is, all you have to do is farm. We take care of the rest.
COMBINING THE AGRONOMICS AND ECONOMICS
We often use the phrase, "Everything agronomic is economic." What does that really mean?
First, let's first define agronomics and economics. What is agronomics? That's everything that we do in the field related to making good management decisions. It's deciding how much fertilizer to apply and where to put it, planting rates, crop protection, tillage systems and how to incorporate all of this into the farm. Those all go into how we grow our crop. On the economics side, we're talking about all of the money involved in farming. Farming is a business, and just like any other business, you need to make sure you have cash flow so you have the opportunity to farm again next year, and the year after that. So, how do we focus on agronomics and economics? We do that by analyzing growers' data and using it to run a profitable farming operation . We use that knowledge to help them make decisions on their farm.
Knowing what you've done in the last five, 10, or 20 years can provide valuable farming insights as you plan into the future. However, if you never take that data and don't use it to make decisions, it's not doing you any good. It's important to invest time into collecting your farm data. We work with growers to analyze their collected field data. We add costs to the layers of data including product cost, operations cost, management cost if they have any land-specific cost, and tie that to the yield file so we can see what is making agronomic and economic sense on the farm.
It's fairly easy to tell where there are higher yields, but it's a lot harder to know if that yield increase also caused an increase in the pocket book. Did the decision pay for itself? Did you produce enough bushels to offset the cost of production? Every pass across the field matters agronomically, but it also has a cost associated with it. We can give you the tools to combine your farm economics and agronomics.
The best agronomics are the best economics
Can you use your data, and specifically your agronomic numbers, to your advantage? Can you use your maps to tell a story of how you make the very best input investments? Can you use your data to explain that while flat-rate applications and seeding are easy to budget, they are flawed agronomically and economically?
These yield-driven nutrient removal charts show how higher yields remove more nutrients in the most-productive areas and less in poorer-yielding areas – proving how flat-rate nutrient applications represent overspending and underspending.
As you can see in the average production costs charts, flat rates equate to spending too much on seed and nutrients in the less-productive areas of fields (yellow and red), and frequently far too little in the most-productive areas (green). Why continue to apply the same rate of nutrients to every acre, when you don't remove the same rate through yield?
Investing your input dollars to maximize your return on investment is all about where you invest within each zone of your fields. It's time to use your data to tell lenders the story of how the best agronomics are also the best economics, which lead to making profitable agronomic decisions for your farming operation.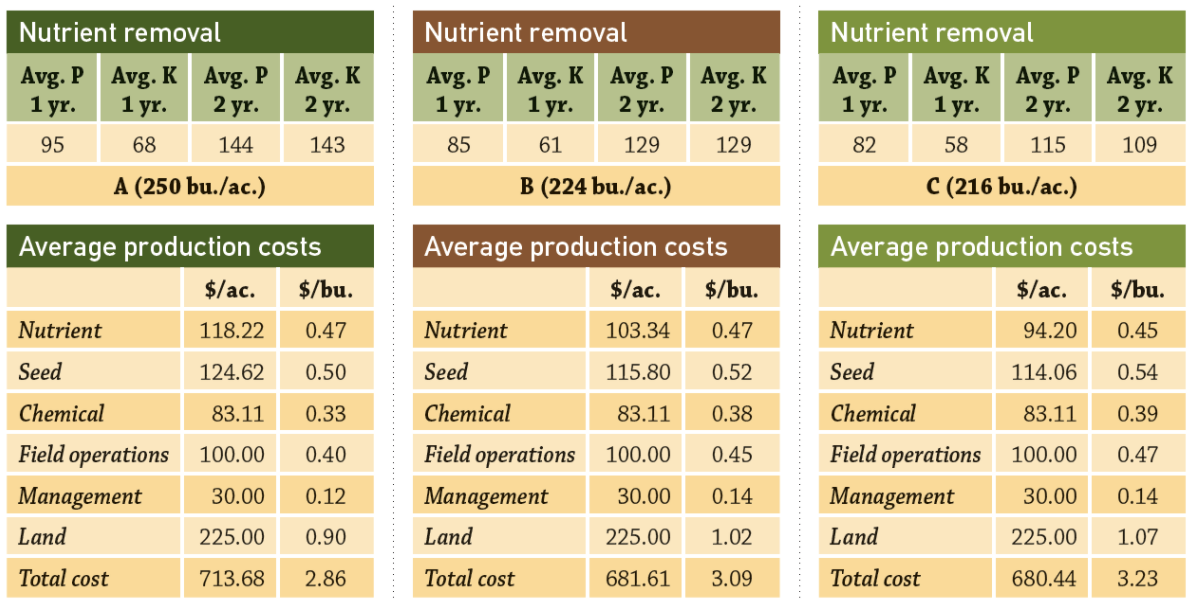 Understand your field profitability
Now is always a good time to start managing your farm decisions at a finer scale. If someone were to ask you if you know your cost of production, you'd likely have an idea. But, when I say it's time to manage at a 'finer scale,' the question that precedes it is, "Do you know how much it costs you to raise a bushel of grain in each unique part of your field—that is—as your productivity changes across the field?"
Most growers focus on understanding their costs and profitability based on assumed averages with an understanding that some ground is subsidizing other ground. Growers understand diversification and spreading risk.
How could your management decisions change if you started to understand your field profitability based on actual field performance? While knowing field averages is important for marketing decisions in season, layering your costs with your actual yield data tells a different story.
Not all fields are created equal, we know that. But how does it change our farming practices? Understanding breakeven cost per bushel at a finer scale compared to the overall operation can change how you manage those fields. Here are our 4 key takeaways that drive how we help growers understand their profitability and plan for the next year.
There is drastic variability within each field
Higher yields are key to success
It's important to know the 'why' behind profitability
Look deeper into average production costs across your operation
What is yield efficiency?
As a farmer you are tasked with making over 40 important business decisions each year, which is no small task. These decisions can relate to anything from finance, product knowledge, agronomic knowledge, marketing, machinery repair/service, buying and negotiating skills, and computer skills. It's no wonder that as a farmer you have been known for being the "Jack of all trades," however, how big of risk can you afford to take when it relates to making all of these decisions confidently and efficiently? As you near harvest each year, there is a nervous excitement. You are about to get your final grade. Did your decisions for the year pay off? How do you measure such a thing? We know it's not about the highest yield, it's really about profitability. We can show you how profitable you were with our Yield Efficiency Score metric.
A Yield Efficiency Score, similar to a credit FICO score, is a single number derived from multiple factors. The purpose of the Yield Efficiency Score is to take all your collected data within each field and use it to determine your per acre return to land and management. At a minimum, we need yield files, field information (pesticide programs, planting rates, varieties, fertility programs, and input costs) that can be entered or gained from as-applied files from the planter or applicator, and your input costs. Once a Yield Efficiency Score is calculated you can visually see a benchmarking gauge that allows you to see beyond your own operation.
"Yield efficiency is about tying agronomics and economics together. It's perfect timing for the market because things are so tight at the farm gate." - Dan Frieberg
As you track your data, year after year we can track how your efficiency gets better over time and how the decisions you make affect your bottom dollar. There are a lot of data points that need to be collected, verified, and entered to get a full-scope picture of your operation for analytics purposes. To collect data efficiently, it's important to first have a good plan, keep notes as you go, collect in a timely manner, and verify that data matches what happened. We strive for continuous improvement through shared learning and increased knowledge working alongside you.
People are always looking to improve everyday tasks to make their lives more efficient, it's important to have that same mindset for farming. Remember that production (yield) is a key component of the efficiency equation, but knowing what it takes to achieve a specific level of production takes you to the next level of understanding profitability. Using a precision ag service on your farm will reduce your risk and give you the confidence in the decisions you make. Get a team of experts that can help you make important data-driven decisions so you can focus on what is most important to you.
Are high yields more profitable?
Why do you put so much focus on driving higher yields per acre?
Is it a feeling of social responsibility to help feed the world? A sense of pride or feeling like you've won a contest? Are you wired to achieve – a constant quest to do better? Does it stem from your school days or parenting - always wanting to have a great report card?
For many growers we work with, we don't believe any of those motivations are the driving force towards higher yields. Growers are generally pretty quiet about their high yields. For them, it comes down to a simple business reality – high yields drive profitability. Click here to read more about high yield farming techniques.
UTILIZE DATA FOR GREATER PROFITABILITY
Foundations of agronomy and geography are the starting place for data-driven decisions.
We believe data driven decisions will power change in every aspect of crop production. Your data can be a valuable business asset that leads to greater profitability. Here are two reasons your data will lead to greater profitability:
Uniqueness
Yield limitations
Check out our blog post on why your data will lead to more profitable farming.