The Power of Precision Ag
For over 20 years, we've been empowering growers to get the most out of their fields through data driven decisions. Premier Crop makes it easy for you to find solutions that will impact profitable yield. We analyze all parts of your field, with your data, to make sure you implement the very best prescription possible. But we don't stop there. We also work to maximize your profits by generating new knowledge from your fields that help you better understand agronomic and economic relationships. And the best part is, all you have to do is farm. We take care of the rest.
Getting started with precision ag
Real world agronomy is complex. To do it right, no one can make what is complex, simple but we can make it easier. That's what Premier Crop does – we don't take short-cuts or pretend we have all the answers. We work with you, as an extension of your farm, organizing data into one system, constantly testing and checking if our work is right. We're different because we don't tell you what to do, we work with you to grow your farm with your goals as our measurement of success.

How can you

get started with precision ag

and use your data to make decisions? Before we get into the easy process of starting to variable rate, let's discuss the reasons WHY you should have a variable rate fertilizer and the

4R nutrient strategy

. For those who don't know, and as a refresher for the rest of us, the 4Rs of nutrient application are Right Source of fertilizer applied at the Right Rate at the Right Time and in the Right Place. All of these practices make us good stewards of the land which provides for us, but it's also important from a data perspective to understand how these different practices affect our operations, our fields, and our bottom line.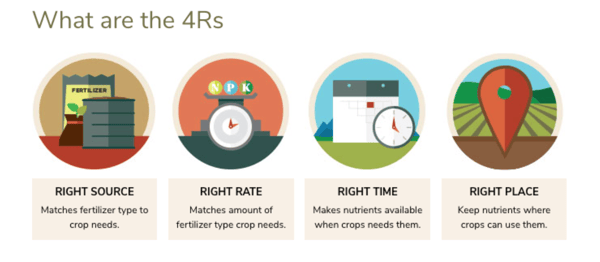 Now that you know how easy it is to get started with variable rate prescriptions, let's take a step back. List all of your current technology, monitors, and apps and ask yourself these questions:
What equipment do I have?
What monitors am I using or not using? Why?
What can help create more margin in this market?
Do I have a variable rate planter, do I use it?
How do I make my seed decisions?
Sometimes thinking out-of-the-box and looking from a different perspective can change, minimize or maximize your production. When you think about how you answered the questions above, do they prove that technology could provide an economic benefit to your operation? If you answered yes, you could benefit from using a farm analytic software to help make data driven decisions. All of this process is made even easier with the help of a Premier Crop Advisor.
If you have computers or hard-drives full of unused files or binders full of printed maps, then the answer is most likely yes. Organizing and analyzing your data, and using it to make more informed decisions could be the biggest ROI on your farm. You don't have to be an expert on computers or an IT wizard, all you need is a trusted partner to help take the complexity out of your data so you can validate or challenge your own assumptions in order to optimize profit. We created a Five Steps to Get Started with Precision Ag you can download and get started using your equipment and data to its fullest potential.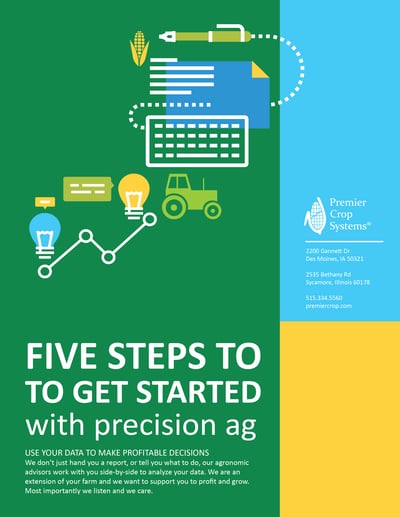 If you are not utilizing your precision ag investment, it's time to get started. You need to be using YOUR data to make the most accurate and confident decisions to utilize your analytics tools and technology investment. Ask yourself what are you getting out of it? You need to squeeze more out of every dollar that you have available. You should be able to prove whether or not what you are doing is benefiting you and your operation, economically and maximizing crop yields.
Should you be using a precision ag software?
Do you get frustrated when you feel someone is biased towards a product, service, or certain brand? Biased information can end up being very frustrating and even costly to your operation. Now think about how you make decisions on your farming operation. Do you have any bias on how different fields respond to a certain seed, fertilizer, or crop protection product? Allowing your bias to persuade field decisions can be very costly and frustrating as well. Your knowledge of your own farm is invaluable. Using farm analytics software can enhance your decision making by removing or challenging the bias with objective analysis. You might be surprised that your original biases/thoughts/intuitions may not have been as "true" as you thought. Premier Crop Systems helps simplify and visualize where to best spend your input dollar and how it can improve profits across all of your acres.
Collecting your data can help you determine if all those stressful choices were profitable and most importantly, if the data is telling you to change some practices to help achieve your goals. Historical yield is a great way to visualize the performance of your field over the years. What has your equipment or the applicators' equipment been tracking? Have you been soil sampling? What does your crop protection plan look like?
Use this list for a starting point of your valuable data:
Soil samples
As-applied (planting, nutrient and crop protection) Data
Harvest Files
Input Cost Data
We understand that your goals and how you manage your operation are also constantly evolving. You can take all the data you've gathered and combine it with your economics to help you visualize where in your fields your decisions are profiting or not. We help you overcome problems in precision ag and break through the myths you may believe, and the barriers to getting started. By choosing to manage all of your data and allowing a Premier Advisor to stand by your side, you have the tools to make confident, agronomic and economic decisions that best fit your field, your operation and your future.
Benchmark your farm data
Telling your customers they're under-performing isn't a great business model. Encouraging them to take part in agronomic benchmarking can sometimes have that same effect. Those at the top might enjoy the satisfaction of knowing they are the stars, but how do you gently push the below average customers to step up their game?
The problem with agronomic benchmarking is that the solutions to reaching better numbers aren't always obvious.
So what are the keys to meaningful agronomic benchmarking? We'd suggest these as a few of the important keys:
Realistically quantify the growing environment to get closer to apple to apples comparisons.
Look longer-term – look for trends over multiple years. Everyone has a great or a bad year once in a while but looking at longer-term trends are more meaningful.
The more depth of data, the more value in the benchmarking. Depth will provide you with more confidence in the comparison as well as more answers.
The best
benchmarking services
don't just tell you where you rank – but they tell you why. What does the data say you need to change to perform better or to keep doing to stay on top?
Evaluating efficiency on the farm
In tough economic times, it is more imperative than ever to know your productivity and be able to evaluate the cost or benefit of your decisions. Our mission at Premier Crop is to make this easy for you and give you multiple ways to evaluate across your operation. The three different methods of evaluation we focus on are cost per bushel, field productivity report card, and learning blocks.
The first measurement is the cost per bushel on a spatial level to give you a new look at each individual area of your field. We look deeper than your Average Production Costs to find the impact on your cost per bushel by field. And we go even deeper than only looking at your field, we break down each field into management zones and determine the cost/bu in each unique zone. Understanding and managing variability within each field is key to improving efficiency (lowering your breakeven $/bu.). Flat rate additions or reductions in inputs can have a significant impact on efficient production.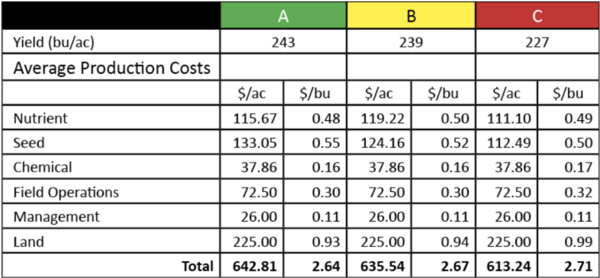 After determining your cost per bushel, it is valuable to look at all your fields and rank them, like a report card. This process allows you to view which field deserves the gold star and which field needs more attention. This is a process that is automatically generated for you when you are enrolled in our program. The purpose of this report is to get us to ask 'why?'
What can we change to get our cost/bu more in line across all of our fields?

How could we lower our seed costs?

Can we split apply nitrogen or apply fungicide?
Our goal is to determine yield limiting factors by doing an in-depth analysis of your individual field. However, we also believe there is a way to profitability without implementing wide-scale changes across your operation. That's why we created Learning Blocks. Growers enjoy not being told "trust us, this recommendation works"; but rather are given the ability to check and validate the recommendation. Learning Blocks are a low-risk way to test and check variable rate seed populations, crop protection products and nutrient rates in one-to-three test acres. In the case of planting, growers can see Learning Blocks by downloading them into their smartphone and physically walking to a Learning Block, verifying the population change. For example, planting 39,000 plants per acre or increasing nutrient rates across an entire management zone might be a stretch, but every grower would risk a 2-acre Learning Block to test the limits.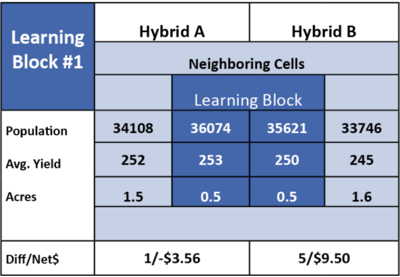 When Premier Crop talks about using data to make decisions, Learning Blocks are a vital part of that decision-making strategy. They give growers the knowledge necessary to refine further the prescriptions in their fields, with confidence and data to back them up.
What is yield efficiency?
As a farmer you are tasked with making over 40 important business decisions each year, which is no small task. These decisions can relate to anything from finance, product knowledge, agronomic knowledge, marketing, machinery repair/service, buying and negotiating skills, and computer skills. It's no wonder that as a farmer you have been known for being the "Jack of all trades," however, how big of risk can you afford to take when it relates to making all of these decisions confidently and efficiently? As you near harvest each year, there is a nervous excitement. You are about to get your final grade. Did your decisions for the year pay off? How do you measure such a thing? We know it's not about the highest yield, it's really about profitability. We can show you how profitable you were with our Yield Efficiency Score metric.
A Yield Efficiency Score, similar to a credit FICO score, is a single number derived from multiple factors. The purpose of the Yield Efficiency Score is to take all your collected data within each field and use it to determine your per acre return to land and management. At a minimum, we need yield files, field information (pesticide programs, planting rates, varieties, fertility programs, and input costs) that can be entered or gained from as-applied files from the planter or applicator, and your input costs. Once a Yield Efficiency Score is calculated you can visually see a benchmarking gauge that allows you to see beyond your own operation.
"Yield efficiency is about tying agronomics and economics together. It's perfect timing for the market because things are so tight at the farm gate." - Dan Frieberg
As you track your data, year after year we can track how your efficiency gets better over time and how the decisions you make affect your bottom dollar. There are a lot of data points that need to be collected, verified, and entered to get a full-scope picture of your operation for analytics purposes. To collect data efficiently, it's important to first have a good plan, keep notes as you go, collect in a timely manner, and verify that data matches what happened. We strive for continuous improvement through shared learning and increased knowledge working alongside you.
People are always looking to improve everyday tasks to make their lives more efficient, it's important to have that same mindset for farming. Remember that production (yield) is a key component of the efficiency equation, but knowing what it takes to achieve a specific level of production takes you to the next level of understanding profitability. Using a precision ag service on your farm will reduce your risk and give you the confidence in the decisions you make. Get a team of experts that can help you make important data-driven decisions so you can focus on what is most important to you.
MAKING MANAGEMENT DECISIONS
When it comes to hybrid and variety selection, it's common to find 20-30 bushels per acre differences on the same soil type and same weather events. A starting place is to look at your own hybrid and variety performance data by soils - both at a field level and across your entire operation. Your data can be a guide for not only making next year's hybrid and variety selections, but also where to place specific genetics. The more data you collect, the more you can make data driven decisions. Applied fertility rates, planting dates, planter performance, trait packages, soil test levels, planting populations are examples of some of the critical agronomic decisions you make every year. You might be able to hold Mother Nature accountable for the first 50% or even 75% of your yield results, but the other half (or less) and all the profit is your responsibility.
Our goal at Premier Crop is to encourage you to use your agronomic and economic data to make better farm management decisions. With over 20 crop years in the books, we've seen it over and over again - similar soils and weather but dramatic differences in results. Usually, it's not one decision, but the combination of multiple decisions.
Variable Rate Pays
Variable rate seed prescriptions have been a topic of conversation since planter capabilities have increased and seed companies look to increase the value of their recommendations. Yet the farmgate, conversations have had a range of reactions to its success.
"I tried it but variable rate prescriptions do not work on my soils."
"It didn't pay in corn but I am using variable rate on my soybean acres."
"I run prescriptions across every acre of the operation and it's made a difference."
"The hybrids change so often; variable rate seeding takes too long to get correct."
These responses lead me to ask, "What measure of success is being used?" I feel the measure of success cannot be seed cost savings or overall yield increase alone. The measure of success needs to be improved profitability at a subfield level. At Premier Crop Systems (PCS) we call this Yield Efficiency. Click here to see real examples of our growers' success with variable rate seeding.
Fertilizer prices are on the rise, which leaves growers seeking to better manage their input costs. When it comes to planning for 2022, you may have a ton of questions rolling in your head such as: How can I manage costs? Is soil sampling actually worth the investment? Does variable rate fertilizer really pay?
Our Premier Crop Advisors are here to help you manage all areas of your operation and answer your questions. Check out this blog post about variable rate fertilizer application.