Precision ag technology can be complex. Chances are, you've already invested in precision farming equipment, but are you using your equipment and the data you're collecting to the fullest capability? Yield efficiency is rapidly becoming the most important metric to measure a grower's success in order to enhance their farming operation. Here's three reasons why we believe all growers should be making profitable decisions based on their Yield Efficiency Score.
1. Yield Efficiency Gives Purpose to Data
Many precision ag companies can give growers a prescription and help make general agronomic decisions from their yield files, but not everyone can take layers and layers of collected data and help manage performance on an acre-by-acre basis. Our data science approach and analytics allow growers to learn faster, by visually seeing where they can improve. We help growers by generating a different equation for each productivity area, or management zone, within a field. With new agronomy products coming out every year with claims of adding bushels to your bottom line, on-farm trials are essential for growers to find out what products work best and where. Simply looking at your yield files and comparing yield alone doesn't tell you what you need to know. Analyzing soil fertility and applied nutrients can help you make better decisions. Looking deeper into all your data layers is critical.
2. Yield Efficiency Allows Growers to See Beyond Their Operation
Premier Crop's Data Visualization platform and Yield Efficiency Score allows a grower to visually see anonymous group data and grower benchmarking. It provides a benchmarking score on how a grower is performing against others, as well as against their own fields. Using the grower's own data in five of their most important decision making categories (economics, seed, crop protection, fertility, operations) can help prove efficiency and effectiveness of crop production.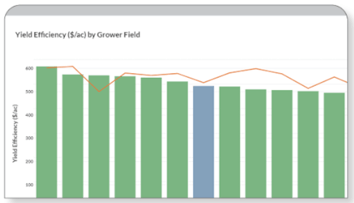 3. Yield Efficiency Helps Improve Margins
Yield is a critical component when evaluating an operation's efficiency, but it's not the only thing growers should be taking into consideration. Yield is really only half of the equation when it comes to measuring efficiency. A grower has much more control over the input dollars spent across their operation compared to relying on the output, or yield. It doesn't make sense to manage inputs at a flat rate across the field when the goal is to raise your yield efficiency. For example, uniformly lowering the nitrogen rate across an entire field will reduce the input expense, but will limit the yield potential in high productivity areas of the field. A Yield Efficiency Score is a metric that is easy to comprehend and it is also actionable. Knowing the your Yield Efficiency Score allows growers to have great confidence in their decision making.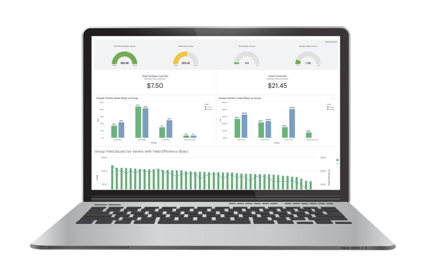 Want to learn how you can work with an Agronomic Advisor to generate your Yield Efficiency Score? Contact us to schedule a demo today.
Learn more about the power of precision ag.