"We know there are dollars left on the table on every acre, it's just a matter of finding it with your farm data." - Lance Meyer, Kansas
LANCE MEYER: Hi, guys. My name is Lance Meyer. I'm an advisor here in eastern Kansas, actually located in the little town of Wellsville, just southwest of Kansas City. I've been with Premier Crop for about a year and a half now, and I work with growers kind of all over Kansas. I'm mainly focused here in east-central Kansas, but I get out west and up north a little bit, so kind of all over.
RENEE HANSEN: Yeah, and Lance, where did you go to school?
LANCE MEYER: Of course, K-State. I mean, is there any other school? I think I'm the only K-State grad with Premier Crop right now, so it makes me feel pretty good. I went to K-State, did ag technology there, minored in agronomy and ag business. With Premier Crop, now I'm doing what I love and pretty much exactly what I went to school for. It's going great.
RENEE HANSEN: Today, we're talking with Lance about the "why" behind your field map and how data and agronomic data can really help you move forward and help you be more profitable in the years to come. So, Lance, I'm just going to ask you some questions. Just tell me a little bit about what you have seen within the last year and a half while at Premier Crop, or even when you were in school, noticing different spots in the field through data. Can you explain that a little bit more?
LANCE MEYER: Well, first of all, it's great that people are recognizing that there are these spots in the field. In precision ag, at Premier Crop, we call that variability, and that's ultimately our main goal. It's to manage that variability, and Premier Crop has a bunch of different tools. Some examples that a grower might see differences in soil fertility: that could be organic matter, pH or just your soil-supplied nutrients. That's really different all over Kansas. That's one great thing about Kansas. You get kind of the whole diverse picture. So, in eastern Kansas, we could deal with some pretty acidic soils, and then, as you move farther west, you get into some really high-pH environments. So, there are a lot of different things there that are going on. Another thing here in Kansas: as you move farther west, you have historically high potassium in the soil. That's a couple of things we deal with in Kansas, some other examples: weather also plays a big factor. We have a lot of irrigation out west. There's some surface water irrigation here in eastern Kansas. Then, you also get into those very drouthy environments out west and a lot of dry-land farming. That can play a big factor in it. Some other things: different genetics are used in hybrids, that sort of thing. Stuff that works here in eastern Kansas is not going to work in western Kansas, in most cases. There are some big differences also in crop protection products. Different hybrids respond to different fungicides. We noticed a lot about that this year, that some hybrids respond greatly to fungicides, and then some not so much. There's a lot of variability across the state, and that's one thing that I'm here to help manage and make the best decision for the grower.

RENEE HANSEN: We say, within Premier Crop, that agronomy is local, but farmers say it too because we have this vast information of data within our system. Ranging from Canada, down south to Oklahoma, East to Ohio, all the way to Colorado. And it's so important that looking at data locally, specifically in Kansas, is so significantly different. What would be the importance for a grower to start using their data when working with you?
LANCE MEYER: Like I talked about, there's so much variability. Even across the state, but even in each county. Working with growers in eastern Kansas versus western Kansas, I mean, agronomy is completely different, and that's really what I love about Premier Crop. You don't have to be an expert on anything because we are using the data, and it's pretty much screaming at us, telling us what we need to do. The Premier Crop software is really a big part of that, along with our industry agronomy experience. But the farm data really gives us the analytics and the insights, telling us what we need to be doing for each grower.
RENEE HANSEN: Yeah, so you talked a little bit about the software Premier Crop and, coupled with what you are able to offer, what tools does Premier Crop have to help a grower learn and why?
LANCE MEYER: For the businessman farmer of today, the guy that really enjoys using his data but might not necessarily have the time to do it. The operations that we work with are CEOs of their farm operation. Our advisors work with the grower to collect the farm data, manage the data, organize the data and make sense of the data, letting the farmer farm as they want to, without any time invested. We take care of everything, from variable-rate recommendations, cost tracking, to delivering the analysis in an easy way that the grower can understand, because we all know that looking at data can be pretty overwhelming and hard to make sense of. So, that's a big piece of what we do, delivering farm data in a way that it's easy to understand for the grower.
RENEE HANSEN: Yeah, I feel like some of the growers that I talk to in the field, just even around here in our area, even some of my friends that we've reached out to, I feel like they just don't know where to get started. That is the hardest point, to just make that leap to get started with data. What would you say is the first thing? How easy can it be? We take care of it, but what are some of the first steps that they need?
LANCE MEYER: Managing farm data is actually, really, pretty simple. The baseline of everything that we do is tied back to a yield file or that yield map. So, that's essentially the only thing that we need to get started, that one or two years of historical yield data. I don't know the stats on that or whatnot, but I think there are some 80% of growers out there that are capable of collecting yield data or are collecting yield data. They just don't actually know it. I would think that the number's actually higher than that, given the amount of people that I talk to and the conversations I have with people. You just have to have some yield data to get started. There are also other layers that are great. Having soil data will give us more insights, but the baseline is just yield data, and that's the majority of growers out there.
RENEE HANSEN: And it can be so overwhelming because there are so many different layers of data, from soil sample data, yield data, planting data, as-applied data, and adding that all up yourself, the brainpower can be exhausting.
LANCE MEYER: You're exactly right, and that's our ultimate goal, to help take that lift off your shoulders. I tell growers all the time: "I'm sure the first thing they want to do after they get in from a long day is sit down at their computer and manage all this stuff." And they're like: "Yeah, no. That's not what I want to be doing." That's just another little piece of the pie, I guess, the value that Premier Crop ultimately brings.
RENEE HANSEN: Especially when it's "go time," when it's planting or harvest time. There's probably something they need to be working on, rather than messing around with data.
LANCE MEYER: Yep, and helping with the monitor and all the technical stuff like that is big, too. Growers tell me all the time. When you get a problem in the monitor, and you're sitting in the field for one or two minutes trying to fix something, that seems like an eternity for a grower sitting there, wanting to get going. I mean, that's ultimately what they love doing, running the equipment. So, having a little bit of a setback due to the technical stuff can be a big deal.
RENEE HANSEN: When it's "go time," it is a race against the clock, no matter what is going on.
LANCE MEYER: That's right. It doesn't matter where you are. That's everybody out there.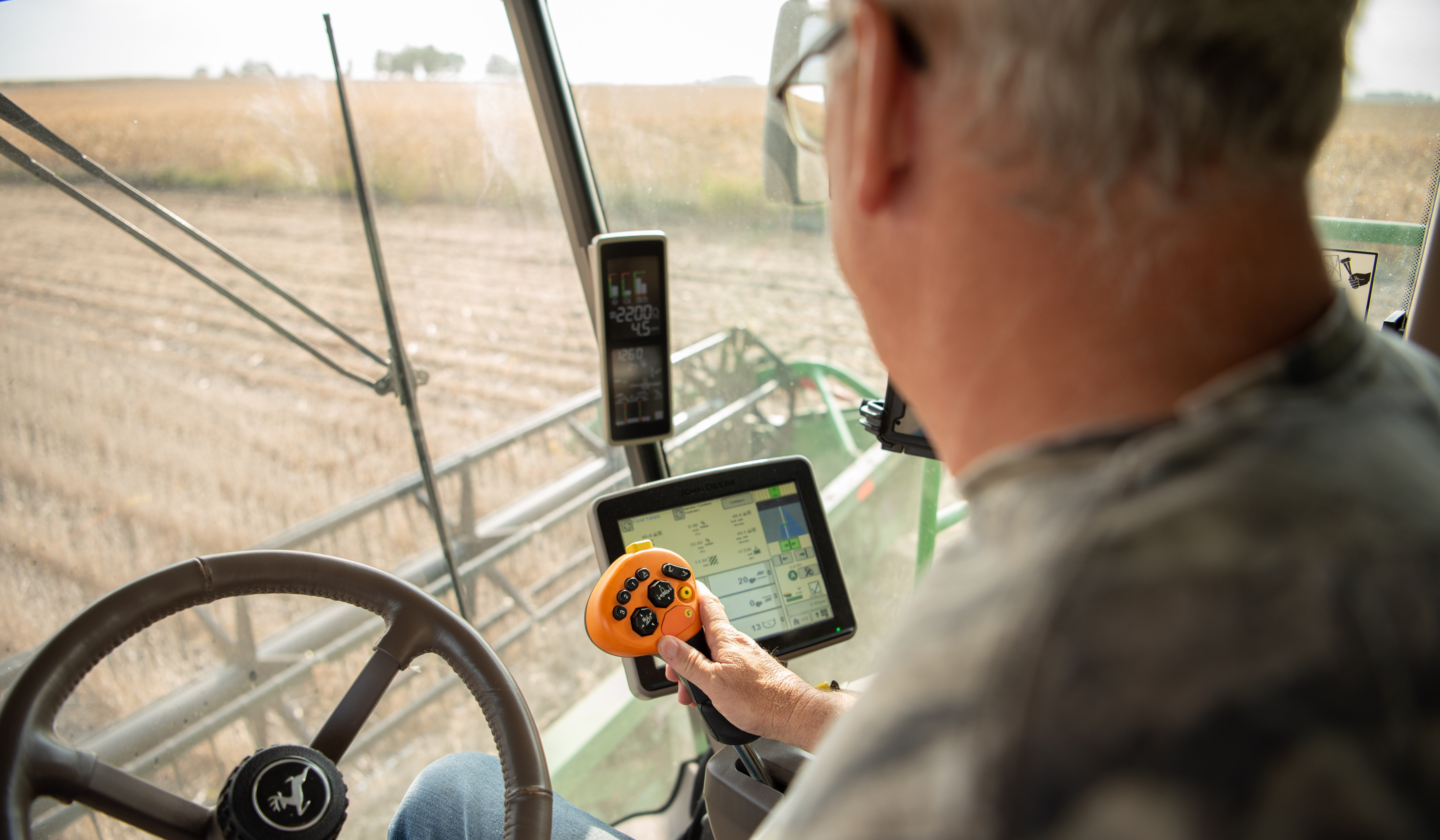 RENEE HANSEN: Another thing with the tools that Premier Crop is offering we've been talking a lot about yield efficiency. Lance, I want you to talk a little bit about yield efficiency. What does success look like when looking at all of these maps from historical yield, ultimately leading to yield efficiency?
LANCE MEYER: With the yield efficiency piece, here at Premier Crop, I mean, we're essentially redefining the success metric for today's farmer. For so long, we've been focused on yield, but now we bring this concept of yield efficiency that a lot of people might not understand, but we're helping people get there. Yield efficiency is, essentially, the amount of money in return from your crop that you have to pay land and management costs at the end of the day. So, obviously, yield is the number-one driver of yield efficiency. As long as we can drive higher yields while still lowering our break-even cost per bushel, we're becoming more profitable, and profitability, for me, is success with my growers. These maps that Premier Crop gives us, they're really our report card for the season, and that's how I like to describe it with my growers. As long as we're lowering that break-even cost per bushel and driving higher yields, like I just mentioned, I call it a successful season, whether it's $10 an acre or $100 an acre farm profitability. We know that there are dollars left on the table on every acre, so it's just a matter of finding it with your farm data. Like I said, if it's a smaller amount or larger amount, I consider that success with my growers.
---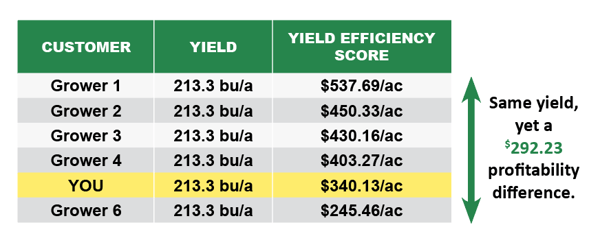 ---
RENEE HANSEN: Do you have a specific example? Do you have a great success story that you saw this year?
LANCE MEYER: There's actually one big takeaway that really stands out from 2020 and also in 2019. And that's on the fertilizer side, and managing our fertilizer investment. Make sure that we're taking into account our crop removals when we're making fertilizer recommendations. It's a simple concept, but it's hard to get across. Every year we grow a crop on a piece of land, we're taking off nutrients in the grain. The soil supplied nutrients through that crop, and we remove that off from the amount the plant took up. As we stated above, our main goal is to manage our variability in yield. Within that variability in yield, we're taking off different amounts of nutrients in different parts of the field. If we're applying our fertilizer the next season to account for the field average and crop removal, we're ultimately under-applying in a lot of the field and over-applying on a lot of the field, also. This is actually a conversation I had with a soil sampling company, SoilView, Craig Struve, yesterday. He had a slide from Colorado State that says: "95% of the time, you're going to be over-applying or under-applying fertilizer on your removal if you're just applying that field average." That's why at Premier Crop, using the actual yield file, is exactly what we've taken off the field to replace it the next season. We use this equation so we're not mining down these better areas of the field and then over-applying in the worst areas of our fields. That's one big example, I guess. That could be, like I said, $50 to $100 an acre right there. That's one big thing that I found for this season, anyway. Like we said, a lot of growers can do this with their variable-rate technology they have, but they just might not necessarily understand it or believe it pays at this point.
RENEE HANSEN: Thank you so much Lance. Thanks for listening to the Premier Podcast, where everything agronomic is economic. Please subscribe, rate and review this podcast so we can continue to provide the best precision ag and analytic results for you. And to learn more about Premier Crop, visit our blog at premiercrop.com.