"It convinces growers to spread those nitrogen pounds out over the course of the season or minimally making more than one application, and they see improved efficiency. We're talking about less pounds of nitrogen to produce a bushel of corn, and we generally see higher yields at the same time. So, it becomes a win-win." - Mike Manning
RENEE HANSEN: Hey, Mike, welcome to the Premier Podcast. Today, we're going to talk about helping a grower have a nitrogen strategy. So, first, I know you've been on the podcast before, but can you just quickly introduce yourself and tell us what you do at Premier Crop?
MIKE MANNING: Hi, Renee. Good to catch up again. Mike Manning, Premier Crop Systems. I'm our Nebraska Account Manager and Agronomic Information Advisor. I support some of our retail partners in a few different areas and work directly with a good set of growers across the state of Nebraska.
RENEE HANSEN: Thanks for that intro, Mike. Also, I know there are a lot of people who follow you out on the Twitter world, and you're known as who on Twitter?
MIKE MANNING: DataManning. You can find me on Twitter @DataManning.
RENEE HANSEN: Perfect. Great. Well, thanks for that introduction. So, let's go into this nitrogen strategy and why we believe that a grower and why you believe and work with growers who should have a nitrogen strategy. Let's just take it from the first step of planning and having a plan and a strategy when it comes to nitrogen.
MIKE MANNING: Well, you hit it right on the head. First, we have to have a plan about how we're going to go about applying our nitrogen or what our season-long plan is for nitrogen management. The simple answer is there is no one-size-fits-all solution, especially when it comes to nitrogen management. It needs to fit into your rotation. It needs to fit into your logistics, your available labor, how you're going to manage different cultural practices and other tools that you have at your disposal, whether that's equipment limitations, irritation or rainfall limitations, yield potential. All these dynamics play together. One I've left out there would be topography and soil types. Also very important. A lot of nitrogen plans probably have fallen under that cultural practice of what a specific area has been accustomed to doing. Some examples of that might be 100% of total expected nitrogen needs applied in the fall with anhydrous ammonia or spring-applied anhydrous ammonia. I'd say, really over the last 20 years, you've seen more of a move towards split application of nitrogen. There's a fair amount of research that's come behind that's, I would say, pretty widely accepted in the industry now that split application of nitrogen is much more common than it ever used to be.
With what I work with in Nebraska, it's almost universal. I know that's not the case in some of the rainfed states and different management systems and on different soil types. I wouldn't even say growers that are limited to owning their own equipment. Even one split application, maybe anywhere from 50 to 75% of their nitrogen upfront in the spring pre-plant or early post-plant and, then, a single side-dress application. Probably, more commonly, what I see for that nitrogen delivery method is some form of upfront pre-plant. Pretty common to come back with a weed and feed pass, where we have 32 or 28% nitrogen, potentially some Thio-Sul mixed in with an early post-planter, early post-emergence application. Then, perhaps another trip back across the field with a coulter bar at about V5. In the great state of Nebraska, with our irrigation, we tend to put it on season-long. We'd like to fertilize through our pivots, generally, at about 50% of our total N needs.
RENEE HANSEN: So, Mike, you're talking, I mean, you're going right into application timing. How does somebody plan for their application timing? Obviously, in Nebraska, they do have the capability to do that because they are working with a pivot, but for the rest of those who don't have some kind of irrigation system, how do you plan for those different application timings? What are you looking at to make that plan? Are you using data from the past? Can you do it year one after you use the data, or do you need to be in a system for numerous years to develop a bigger plan, a bigger strategy?
MIKE MANNING: You've asked some multifaceted questions there. So, let's kind of break that down one by one. Let's just go. Let's say we're making the decision to go between a single application, like we historically have, and two applications. We're going to split some portion of our total nitrogen pounds. The best way I explain it to growers is that our corn crop has a season-long nitrogen requirement. The closer that we can supply our synthetic nitrogen to that growing crop, or to the crop as it's growing through the course of the season, the better efficiency we're going to have. There are definitely places in Iowa and Illinois with very high organic matter, very strong holding capacity and some very nice flat-level fields. Dan Frieberg shared it many times in the past. Well, we kind of call it our surrogate data. Why are we seeing, in the group data, these 100% nitrogen fall-applied ammonia always showing up as the highest yielding in the database? Well, we were making those applications to some of our best fields that we could go place all that nitrogen at that time, in the fall, how to be available. And there are prime acres to begin with. The acres that were receiving a split application, or had some other balance of nitrogen pounds throughout the season, were those rolling hills mixtures of sand and clay and just more marginal acres that needed to be managed with a different stroke anyway.
Probably one of the biggest things I see, as it convinces growers to spread those nitrogen pounds out over the course of the season or minimally making more than one application, they see improved efficiency. And by improved efficiency, talking about pounds of nitrogen to produce a bushel of corn, and we generally see higher yields at the same time. So, it becomes a win-win. To what I think was one of your second questions: how many years of data do we need to have, or how do we arrive at our total nitrogen requirement? Again, we can kind of break that apart in a couple of different pieces. For somebody that is making a single application, I would say just take a couple of fields and plant a split application. Again, how does that fit into your labor and logistics workflow? For growers that own their own equipment with the sprayer, it's pretty easy to convert. Not too much more difficult to incorporate a weed and feed side-dress nitrogen going on with your post herbicide. For guys that hire it out, that hire their spraying out, it might make sense for them to acquire a coulter bar and go make an application in season. Or at least go rent one and try it. Take a handful of fields and just try it for a couple of years. Now, if you have 6% organic matter on perfectly flat earth, you'll probably completely disagree with me. If you farm anything other than that, I would put my money on split applications just about every time.
RENEE HANSEN: The split application is really becoming more popular. You mentioned that in the beginning of this podcast, that you've definitely seen the trend move the line more towards split applications. So, you did mention this also about nitrogen efficiency based off of the field. So, can you talk about why having a plan, a nitrogen strategy, how that makes you more efficient with your nitrogen to gain more yield?
MIKE MANNING: Combination of factors. I'd say, bottom line, it does. A split application helps us be more efficient, but if we're measuring the results off of our farm, we can actually see what those real efficiency values are. With Premier Crop, we talk about zone management a lot, managing fields by zones. Zone management makes sense. Just for my standard disclaimer on that, we're not talking about zone soil sampling. We still have a grid soil sample underneath of that. One of our favorite methods for arriving at Management Zones is principally looking at historic yield data. For the most part, the best area of the field has always been the best area of the field. The poorest area of the field has always been the poorest area of the field. Using other pieces of spatial data to maybe augment that, whether that's grid sample data, EC, EM data, soil survey maps, where applicable. We can use that to help augment and guide zones.
So, now we think of our traditional Premier Crop ABC management zone approach. We start seeing efficiencies. You start breaking that out year over year, especially in those corn years. If I see consistent efficiency of, say, 0.75-0.8 pounds of synthetic nitrogen per bushel produced in my A zone, maybe 0.9 or 1.0 in my B zone and maybe anywhere from 1 to 1.2 pounds of nitrogen in my C zone, I see that consistency. We can confirm our zones. A, we know our zones are behaving how we believe they ought to be behaving. B, we've dialed in management, probably with a variable-rate seeding approach, as well. And C, now we can start incorporating these nitrogen efficiencies that we're observing within the field. That becomes, well, A becomes an efficiency driver. And, all of a sudden, let me do some quick math. If I'm producing 280 bushels in my A zone, but my efficiency is at 0.7 pounds of nitrogen, I really only needed 196-200 pounds of synthetic nitrogen in that A zone. In that C zone, that's at 1.1, and it's producing 225. I probably needed 240-250 pounds of nitrogen in that C zone. At the end of the day, it's spatial management. As things change in the field, we're adapting our management to it and, then, marrying economics and efficiency back to it. Now, it also ties right into sustainability. We're being a lot more — we're just being smarter with how we're applying fertilizers on our fields.
RENEE HANSEN: Mike, that was going to be my next question to you, and I think you already answered it. When it comes to nitrogen and efficiency, it couples the economics, so profitability for the farm and sustainability to the land.
MIKE MANNING: Absolutely. It's agronomics, economics and the sustainability piece. Agronomically, we're producing good bushels. Economically, we're doing it very efficiently. Sustainability-wise, we are being good stewards of the land and being good stewards of our fertilizer resources.
RENEE HANSEN: Lastly, can you talk a little bit about what Premier Crop is doing with what we call Enhanced Learning Blocks and possibly what you can do with a nitrogen strategy?
MIKE MANNING: Sure. So, Enhanced Learning Blocks, I'm pretty passionate about Enhanced Learning Blocks. I've been using them widely since 2016. I haven't done a ton with nitrogen, but there's certainly an opportunity to do that. So, an Enhanced Learning Block we're taking builds off the traditional Learning Block concept.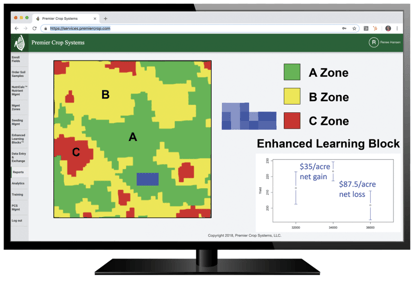 Let's take a two or three-acre block in a known area of the field, and let's change our rate. Let's go up or down. Well, enhanced learning blocks enabled us to introduce both randomization and replication. So, instead of testing a single rate in a two or three-acre block, let's test three or four different rates and then replicate it five times. So, now, in the case of nitrogen, if I was, say, on a side-dress application, I was coming in with 30 gallons of 32%. Let's pull up 28.005. So, if I was at 30 gallons there, I'm looking at about 90 pounds of nitrogen. Within that enhanced learning block, maybe it's about four acres in size now. Let's test rates at 20 gallons, 25, 30 and 35. Or 25, 30, 35 and 40. This system — we build it into the prescription system — enables that application to execute in the field. Then, we can have statistically valid nitrogen response results to review at the end of the season, and that becomes very powerful. What is the right rate? Obviously, one trial one year from one field is not going to answer the question for your entire farm, but it starts you down that path of learning. In many cases where I use Enhanced Learning Blocks with my growers, we have multiple blocks where you have anywhere from one to five blocks per field, and we replicate that on just about every field they farm. So, they're building a research quality data set off of their own farm with their precision equipment. I'll leave it at that. Nitrogen management and how nitrogen behaves in the soil, in the environment, and how it performs agriculturally, agronomically for us, is probably one of the most complex aspects of agronomy. Again, just to reiterate, there is no one-size-fits-all solution, but it is about tailoring and optimizing things that best suit your farm.
RENEE HANSEN: And that's why having a nitrogen strategy and building that with an agronomic information advisor like you, Mike, is really helpful because you have the knowledge. You see the data, and you can help the grower learn, year over year, how to best get the best profitability and sustainability on their land.
MIKE MANNING: Absolutely.
RENEE HANSEN: Thanks for listening to the Premier Podcast, where everything agronomic is economic. Please subscribe, rate and review this podcast so we can continue to provide the best precision ag and analytic results for you. And to learn more about Premier Crop, visit our blog at premiercrop.com/blog.
Learn more about soil health.