"Growers tell me they are frustrated with precision ag, they've invested in the technology. I tell them, 'You just want to put the pieces of the puzzle together to see exactly what the picture is.' And they are relieved when Premier Crop can help."
- Katie McWhirter, Director of Training and Development
RENEE HANSEN: Today, we're talking with Katie McWhirter, our Manager of Training and Development. Katie is chatting with us about the frustrations of precision ag. Katie, tell us a little bit about your background and a little more about you and your role at Premier Crop?
KATIE MCWHIRTER: I was born on your typical farm in southeast Iowa, livestock and row crop. My father's just now retiring, but funny as he is, he is in his late sixties, and in 2013, he invested in electric drives to be able to variable-rate seed. He variable-rates his fertilizer. He does all that, which is so not what people think of that generation, embracing technology like that, but he knew that, working with me, he'd be able to make use of that equipment that he was investing in. Then, on the flip side, I have a brother who was, I guess for lack of better words, gifted or brought into the row crop world. He's actually in the livestock industry and doesn't have that technology, but we started talking one day, and he said: 'I think I can use my data to do better. It's not that good.' So, talking with him, does he have the latest and greatest? No. But, again, his data is everywhere, and it's just meeting him where he's at to say, okay, I realize you don't have this technology or this technology, but we can still use what you have to make a better decision. Even as recent as about an hour ago, I'm entering in some of his costs and his inputs to really make him see that there is variability within his operation even at a field level, which means profitability is variable at that field level. So, I'm excited to watch his journey as he gets more into this space.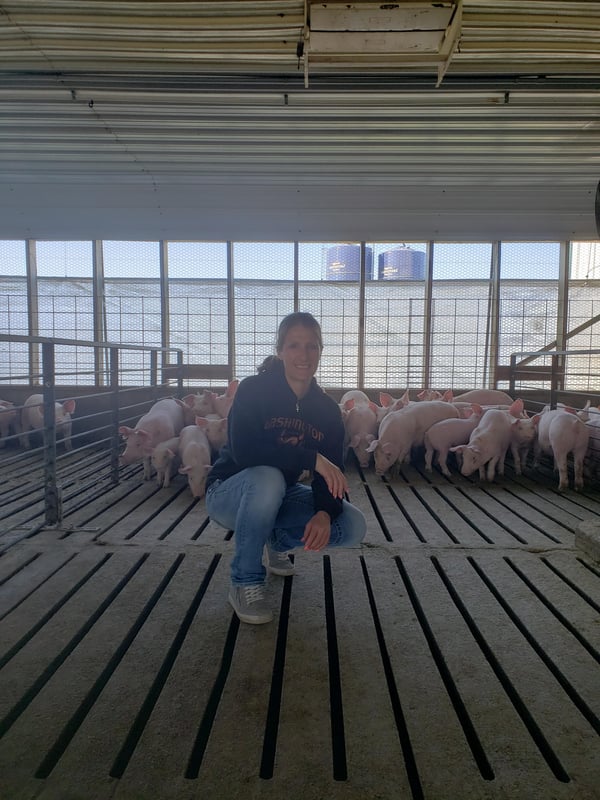 Frustration #1: Connectivity
RENEE HANSEN: So, Katie, what would you say? We were talking before we hit record on this podcast, how do you come up with a list of five to 10 things that growers don't like or are frustrated about with ag technology?
KATIE MCWHIRTER: Well, those frustrations definitely vary in the different hats that I wear. Probably the biggest frustration is that these technologies, if you're talking about in or on the equipment, would be that they don't communicate together, especially if they're not a solid color, meaning they're not all the same brand of equipment. That is a frustration for growers. I would say, also, a very big frustration, and funny as I've been out here in the last couple weeks, growers don't think that they could, I wouldn't say, benefit from our services, but they're very worried because they don't think their data is good. So, it's two combines, it's three combines, it's not calibrated. How can you change some of these frustrations? What we can do, is take that data, and as long as it's capturing that variability and we have an end measurement, whether that's going to be bushels or yield, we can post-calibrate or make that data usable within our system. I think even the simplest technologies really can benefit from what we do.
I think one of the things I've learned is that we really have to ask questions to these growers to find out, when they talk about ag technology, no different than what I did with you, to find out what exactly they're frustrated with. If they're frustrated with data, what do they mean by that? I mean, is it they're frustrated because they've got two or three combines or two or three planters and it's not all brought together? Is it because they don't feel like they're getting a complete picture? I met with a grower yesterday who said: 'The soil sampling is here. We've got these spreadsheets on our computer. Their data's all over the place.' I smiled, and I said: 'You just want to put the pieces of the puzzle together to see exactly what the picture is.' They're like: 'Yes, that's what we want because we've invested in it. We know that each of those separately has been bringing us value, but it's also bringing us frustration as we know we should be bringing them all together to make an even better decision.'
Frustration #2: Data isn't good enough
RENEE HANSEN: What was some of his biggest hesitation? I know you mentioned that he felt his data wasn't good enough but elaborate on that a little bit more. Tell me more about that.
KATIE MCWHIRTER: Well, the yield monitor doesn't have a card in it, so we haven't been collecting yield data. So, I mean, the basics of what we've always said is a must. It's really what we're rooted in, but with our new planning tools, I immediately was like: 'Okay, but there's so much more we can do even by putting together, at the field level, his yield goals and his expected revenue and his variable-rated nutrients because he's been grid sampling.' Even though he doesn't have what we, even a month ago, thought was an essential piece of what we had to have to be able to work with a grower, he's going to test me on this one because he'll get a yield monitor. That's the agreement by fall, but I believe we can still provide him value being early enough and being able to identify his yield efficiency scores, his planned yield efficiency scores in each field, to be able to potentially identify profit robbers and how we could try to lessen that on his operation as a whole. Yeah, he definitely was hesitant until I showed him. I'm like: 'Here's what I need.' And he immediately says to me, he's pointing at the paper, and he's like: 'I've got this. I've got this. I've got this.' I'm like: 'Yeah, you've got the pieces. Let's get them put together.'
RENEE HANSEN: Yeah, putting it together all in one system, and you also mentioned connection and connectivity. I mean, that seems to be everything's everywhere. So, you also tell me, what are you doing to help him solve that and get all the information into one spot? I mean, you are doing some of the work for him.
KATIE MCWHIRTER: Right. So, I get the pleasure of contacting the people on his agronomy team. I think, before, some people might've seen us as the competition or a threat, and what I've said to both his seed supplier and his crop protection and fertilizer salesperson is I'm not here to step on your toes. I don't sell those things. What I'm doing is I'm trying to help him be more profitable. That's been fun to talk with his team, and, in fact, as soon as I start putting these pieces together, I want to meet with his team and show them what we're trying to do for him in order to make him a more profitable farmer.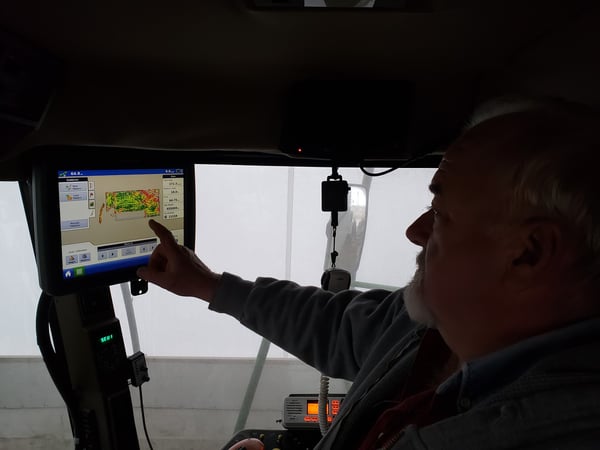 Frustration #3: Different Colors of Equipment
RENEE HANSEN: Yeah, and what about the color of equipment with numerous different colors of equipment? Or the farmer, the grower, isn't applying some of their inputs. Somebody else is doing it for them. How do we go about getting some of that information?
KATIE MCWHIRTER: Oh, definitely. Again, I met with another grower yesterday, and as we're talking, sometimes they think all this information has to be captured somewhere or captured on a monitor. It has to be captured somewhere, but there are so many different pieces of information that we keep track of. I think that is a really big misconception, what data is. Some people, I've laughed, they think it's a singular thing. For us, it's a plural. I mean, so much data can be collected not necessarily on a monitor. So, putting that all together in one system, be able to look at it, to get a clear picture as far as what's correlating yield or, more importantly, what's driving profitability or, better yet, holding the entire operation back from being more profitable.
Frustration #4: Is a precision ag service profitable
RENEE HANSEN: Yeah, you're talking about some of the things that they can start inputting and putting the pieces of the puzzle together. So, what's the output? What do they get? What are we giving a grower? How is it going to benefit him?
KATIE MCWHIRTER: What it gives the grower is a clear picture of their operation as far as profitability, that return to land and management. The numbers don't lie. I mean, I've always said the numbers do not lie. Take the emotion out of it, but that's not where it stops. Essentially, it's a continuous cycle. Don't give me a pretty map, and that's great, right? Don't give me that. I need you to be able to, and our growers need us to be able to, without any bias, to say: 'Here's what we could do with it.' Ultimately, it's going to be the grower's decision, and that's what I was telling the grower yesterday. We're never going to do anything that you don't want to do, but we will challenge you as far as this is what we're seeing in the data, and if you're wanting to improve, it really looks like this is an area that we could focus on.
Frustration #5: Fear of changing everything at once
RENEE HANSEN: Yeah, something that you mentioned, Katie, was it's a continuous cycle and how it's never ending. You're constantly learning. So, even at year one, there is so much that we can learn about. So, tell me, what does a grower learn at year one?
KATIE MCWHIRTER: Which is funny because, when I got back into working directly with growers, that was one of the questions that they asked me when we were first sitting down: 'What do you think we're going to learn this year?' As I was getting all this data from him, and I'm like: 'I don't even want to take a guess.' I have a suspicion, but I don't want to say it out loud, but I think it was just their biggest 'aha' was I've never looked at my data like this before. I've seen it on the typical red, yellow, orange, three-shades-of-green map. Maybe I've done a little bit of comparison in some of these other platforms before, but never have I looked at it this way before. Whether that was in charts or in our data visualization tools and then, ultimately, to tie those costs back to it. Some of the things they thought, they were right, and some things they were kind of surprised, which has led to decisions. When I started with them in August, I mean, I told them I was not going to push them to anything that they didn't want to do technology-wise. All of a sudden, we're sitting down for our planning meeting in December. I'm like: 'Oh my goodness. Four months ago, this is not where we were.' I didn't think this is where we were going, and now we're jumping in the deep end of the pool. I don't want you to do this and be uncomfortable. I want you very comfortable with the changes that you're suggesting we make. That's been fun, though, to lead people through because we all know that change is hard, and it's very hard to get outside of our comfort zone. So, I actually start my sales training, my leadership training course, with: 'Here's your comfort zone, and outside of it, that's where the magic happens.' That's so, so true with farmers.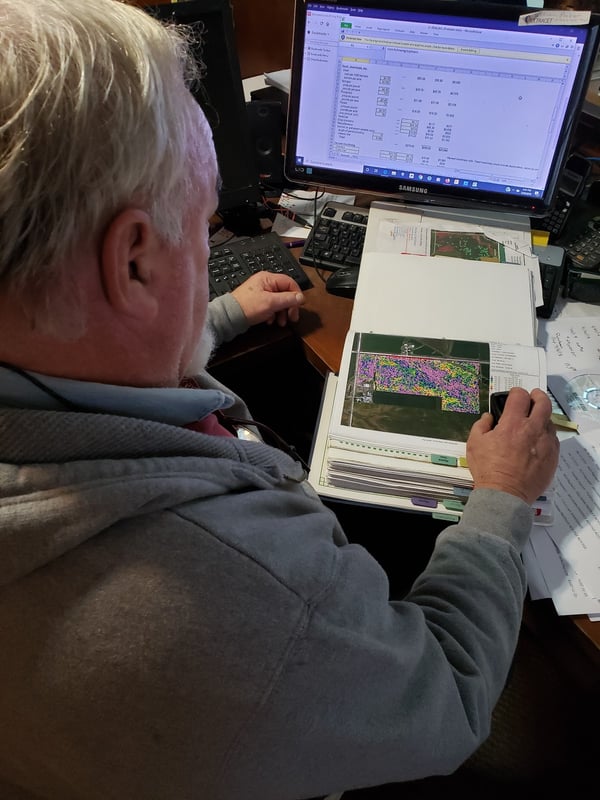 Frustration #6: Data is overwhelming
RENEE HANSEN: I really think, and I see it too, just within our own family operation too, that sometimes you can get so comfortable diving into something new, they want to, a grower wants to get into something new, but it's like, where do you start? How do you get started? It's having a service, something that Premier Crop offers, something that you offer, just helping them, starting to input the information, contacting the people to get the information, knowing who to contact. So, right now in 2021, we're at the beginning of March. Why would a grower need to get involved in something like this? Why should they wait?
KATIE MCWHIRTER: I don't think they should wait. I think it could seem very overwhelming and don't know where to start. It just takes that conversation to get them going. Really, I say, that's why it's so wonderful that we have the great group of advisors that we have to guide them through this process. We all like to be guided. We all like to know what's next. I don't care if it's the program at church, the bulletin to what's next. Or when you get on an airplane overseas, and it's saying: 'Here's what's going to happen. Then, this.' That just puts everybody to ease and guide them along. Our advisors, it's like we farm with them. I mean, I know I wasn't going to go back and farm, but that love of agriculture and helping farmers, that's our group of advisers. That's their characteristics, their qualities. They genuinely want to help because it's like they're farming.
RENEE HANSEN: Thanks for listening to the Premier Podcast, where everything agronomic is economic. Please subscribe, rate and review this podcast so we can continue to provide the best precision ag and analytic results for you. To learn more about Premier Crop, visit our blog at premiercrop.com.
Learn more about the power of precision ag.